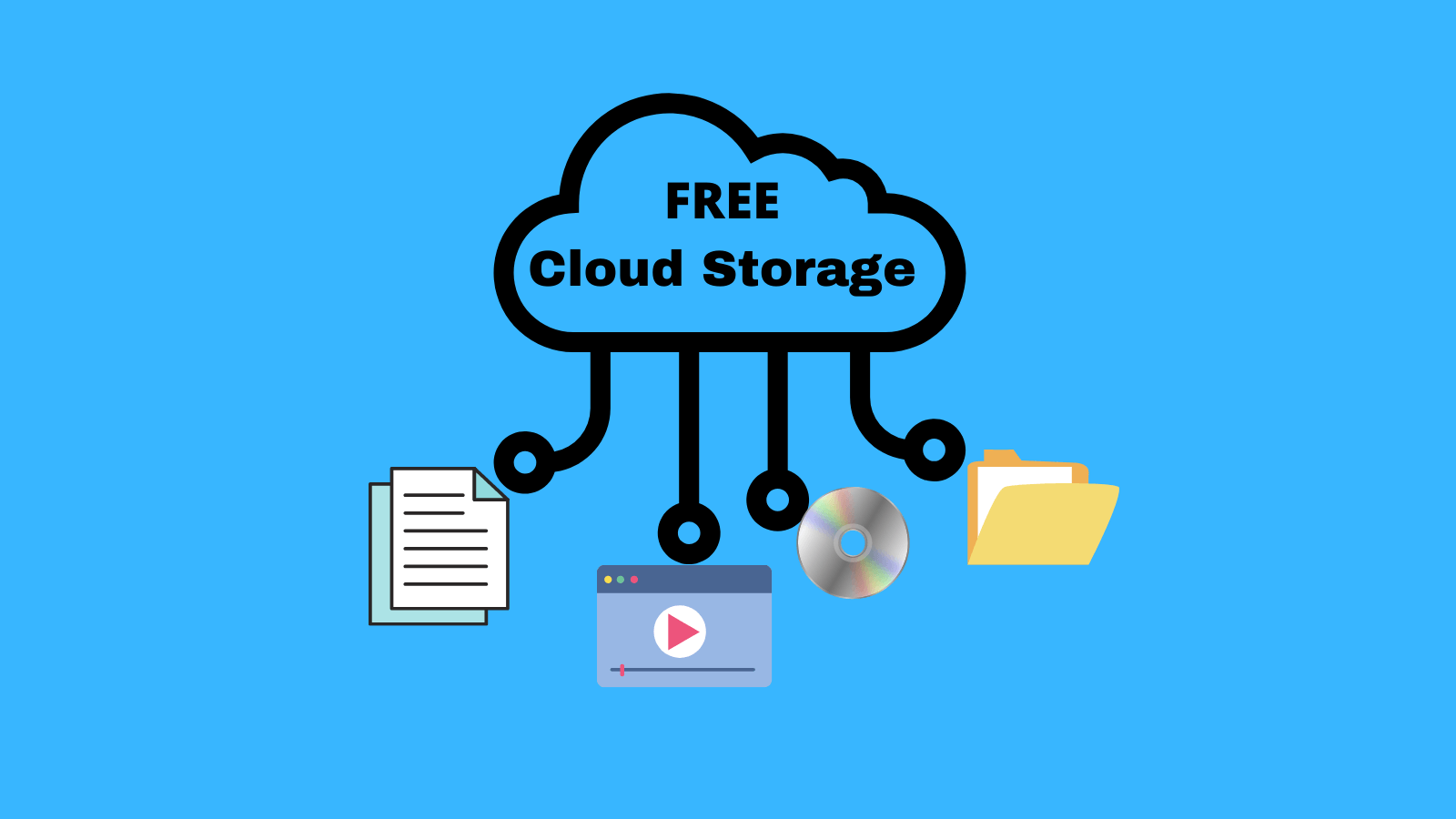 Welcome to our website , if you are Looking for the best free cloud storage service these days? You've come to the right place! With Dropbox, Google Drive, OneDrive, and pCloud being some of the biggest names in the world Best Free Cloud Storage, it's easy to get confused. But don't worry. We have write this article to help you separate.
In this Post, we will cover the five best free cloud storage services around. So, read this full article till the end and don't go anywhere. With many people now working remotely, cloud storage technology has come to the fore, making remote collaboration and data-sharing as seamless as it gets.
Thanks to incredible technology like cloud storage, we can now effectively team up with our co-workers without being with them physically. Cloud storage also eliminates many weaknesses of physical storage units, so you no longer need to worry about losing your data to theft,
fire, damage, and other mishaps.
However, if you have never used or bought a cloud subscription, you may be skeptical about paying for cloud technology. This is where free cloud storage services come into the picture. There are so many options out there, all making big promises, but in reality, only a few of
them can be trusted.
To make sure you don't get into the wrong hands, we have vetted many free providers and hand-picked the five best free cloud storage
services out there. We have rated and ranked these services based on five key aspects. These are features, security, privacy, interface, and pricing.We will cover our top picks in descending order. So stick with us till the end to see which one is the best of them all.
Dropbox is widely regarded as the grandfather of all cloud storage services, and it's difficult to make a counterargument. When it was established in 2007, not many people believed in the concept of cloud storage. It came and made believers out of nonbelievers, and the world has not remained the same ever since. And while it's no longer the best cloud service nowadays, it's still good enough to earn a spot on this list.
The service is quick and user-friendly. Of course, it's not a completely free service, but it does give users up to 2GB of free storage space. We know this is small for most people, but at least it's better than nothing. Besides, it gives you the kind of peace of mind that you can never have with completely free services. Admittedly, this free offering only comes with basic features. But it allows you to share your files publicly, which is amazing.
There are actually not many features to speak about, as far as the free plan is concerned, but it can be a perfect option for you if you are only searching for a basic file store. While it does what it says on the tin, we advise you not to expect anything extra or premium. However, it's worth mentioning that Dropbox gives you 16GB worth of free storage for referring the service to other people.
For every new user you successfully refer, you will get an extra 500MB. However, you will have to refer many more to actually reach the cap.
If you still need more space after reaching the 16GB cap, you can buy a paid plan. There are two paid plans on offer – the Dropbox Plus plan and the Professional plan. While the former is priced at $9.99 monthly for about 2TB of space, the latter costs a bit more, at $16.58 monthly for 3TB of space.
However, Dropbox is not your best option if security or privacy is at the top of your priority list. Apart from the fact that the company's security has been breached in the past, it's also less than ideal that there is no support for zero-knowledge encryption. Therefore, if you are looking to store important or sensitive files, you might want to explore other options. However, if you're only looking to store non-sensitive files, it can be a perfect option. Besides, its simple interface makes it ideal for all sorts of users, which can't be said about many cloud storage services.
Next up on our list is Icedrive, sitting on the fourth spot. Icedrive is not nearly as old as Dropbox. However, the company's immeasurable impact in the industry in its short existence means it now sits on the same table with the oldest and biggest names in the industry. And it's well deserved. It's mainly a paid cloud service. But it offers a generous free storage space of 10GB, which is given to every user as soon as they sign up. With the free offering, you get to enjoy solid privacy and security,
excellent speed, and a user-friendly interface. However, Icedrive doesn't offer the most robust features. It lacks common functions like folder upload links, collaboration tools, and block-level syncing, which are available in other big names. Despite the omissions, though, it is still a great basic cloud storage service. It's especially suitable if you are only looking to sync your files between different devices or share them with your friends or colleagues.
On the upside, Icedrive performs very well when it comes to privacy and security. Apart from offering the strong Twofish protocol, it also upports zero-knowledge encryption, which means nobody apart from you can access your files. Another impressive addition we'd like to mention is that you can download all the personal data the company has on you.
This says a lot in terms of transparency. On top of that, it's GDPR-compliant. If you are not satisfied with the free 10GB you are given, the ompany does offer three reasonably-priced upgrade options. The first plan, which costs $19.99 per year, offers 150GB per month. Note that it's only available on a yearly basis. The second plan is $49.99 yearly or $4.99 monthly, and it offers 1TB of cloud storage space. The third plan is
the company's flagship plan, costing $17.99 monthly or $179.99 annually. This plan is best suited for small businesses, as its 5TB of monthly storage space may be too much for an individual.
In addition, every Icedrive plan comes with an option to buy it for a lifetime, allowing you to pay a one-time fee to enjoy the service and the plan forever. If you'd rather choose a lifetime option, then the first plan costs $59, the second plan costs $149, and the third plan costs $499. The only catch with these plans is that your bandwidth is capped at 250GB per month, 2TB per month, or 8TB per month, depending on the plan you pick. If you're interested in Icedrive's premium tiers, see the official link we have added in the description box down below if you want to get a special discount on this service.
Next up, we have Google Drive, which takes the 3rd spot. No matter what your preferences are, it's almost impossible for anyone to write a piece on the best free cloud storage services without including Google Drive. Thanks to its neat integration with the famed Google Docs and
also its super-generous 15GB of free storage space, it is one of the top free cloud storage services you can find. But it offers a lot more to make it a worthy inclusion on our list.
If you already own a Google account, there's no need to do anything, as every Google account comes with free storage as standard. The storage space applies to Gmail, Drive, and every other Google product, like Google Photos. While this is not in any way a problem, it's something you must think about if you have already uploaded a big photo collection to Google's servers.
It's also worth noting that Google Drive is the best free cloud storage service if you are only looking to store your photos. However, Google Drive does come with a couple of privacy concerns, which may be discouraging. In our opinion, if you're a privacy-conscious user, you should skip this service and consider other free options on this list.
It's also off-putting that Google Drive does not offer file encryption, which raises even more concerns. On the bright side, the 15Gb of free cloud storage space offered by Google Drive is one of the most generous free offerings in the market. While the free space can't be expanded with referrals or freebies as with many of its competitors, it allows you to upload some massive files.
If you need more than 15GB of space, you'll have to buy additional storage. The price each individual pays usually depends on their country, but US residents often pay about $19.99 per annum for storage space of 100GB. This is about only $1.99 monthly, and it's extremely easonable.
If you want even more space, then you may prefer the 200GB plan or the 2TB plan, which cost $29.99 per annum and $99.99 per annum, respectively. Another significant advantage of choosing Google Drive is that it allows you to share your extra storage space with family members, making it one of the most suitable options for families.
Next, we have Microsoft OneDrive, which is our second-best pick. OneDrive is to Microsoft fans what Google Drive is to Google users. With its seamless integration with Microsoft's popular email platform, Outlook.com, it's a perfect fit for people who love Microsoft and its products. Besides, OneDrive also nicely integrates with Windows 10, and it offers a range of great mobile apps to aid work on the go.
Furthermore, OneDrive allows users to share files with non-OneDrive users. Bear in mind that this feature comes complete with amazing customizable permissions. Plus, users can edit their files online without needing to download them, which in our opinion, is a magnificent addition.
Free users only get a meager 5GB of cloudstorage. As you would imagine, this can be expanded to 100GB without spending much money.
If you own a Microsoft 365 account, either through private purchase, educational institution, or work, you will get 1TB of free storage space automatically with an upgrade option.
Just remember that this is a secure cloud service with not many advanced features. The Pro version comes with a nice dark mode and ntegrates nicely with Microsoft Teams. It's also worthy of note that the company has increased the limit for file uploading size to 250GB from 100GB.
In the past, OneDrive users used to harbor security concerns, but not anymore. The tech giant now protects your data with AES 256-bit encryption, which is the highest level of encryption at the moment. You can choose a Microsoft 365 plan, you will get a storage space of 1TB for $69.99 per annum. If you'd prefer the family package, you will get a storage space of 6TB for $99.99 per annum.
This comes with full access to Microsoft Office products for Mac and Windows and extra support for password file protection and ransomware
protection. If you are not interested in all of this, then you can choose a basic OneDrive plan for $1.99 monthly. With this, you get an extra storage space of 100GB but there is no Office access, ransomware protection, or password protection.
Finally, pCloud is our highest-rated free cloud storage provider. It sits gracefully on the first spot. It's an incredible cloud storage service that thoroughly deserves every accolade it gets. It's not just the best all-around cloud storage service but also the best free cloud service, thanks to a number of significant offerings. For starters, this cloud service gives you a generous free storage space of 10GB, which should be enough for basic needs.
pCloud is a cloud space that allows you to effortlessly store your folders and files while enjoying a user-friendly interface that is second to none. With the seamless interface it comes with, you don't need to struggle to find where anything is located or what any icon does. Everything is easy to get, making it an ideal fit for all categories of users.
Additionally, the cloud service offers a one-month trash history and limitless remote upload traffic, the only thing you need is the file's URL. As expected, though, you are limited when it comes to downloading traffic. The Premium package gives you 500GB per month, while the Premium Plus package gives you 2TB per month.
While it comes with bandwidth limits, it doesn't seem to have any limit regarding the file size for uploading. So, it allows you to sync big media files, which is another big upside in a long list of upsides. Another thing worthy of note is that the cloud service offers compatible clients for all mobile and desktop platforms.
Plus, it allows users to log in through the website, which is super great. Bear in mind that the cloud service now enables users to determine between the US and the EU to keep their files. The company was founded in Switzerland, a reputable country, for its big respect for privacy. However, we should also note the Swizz parliament has recently passed a law that expands the country's surveillance power.
While we are not sure as of yet how that affects privacy-oriented companies that have chosen the country because of its previously favorable
privacy laws, we feel it's something you should still keep in mind. That said, we'd like to note that for just $4.99 per month, users can password-lock individual files. Also, the two paid plans cost $47.88 and $95.88 per year, giving you 500GB and 2TB of storage space, respectively. This service is also comes of the few that provide lifetime plans,
it basically gives you a permanent drive on the cloud. The company also offers a family package that lets you share your storage space with four other family members. The good news is, The Cyber Lab viewers can get a special 65 percent discount on pCloud. Just make you buy the service using the official
link we have shared in the description box down below, and this discount will be automatically applied. But this offer is only valid for a limited time, so hurry up. That concludes our list of the best free cloudstorage services.