The physical version of the Essential Keto Cookbook with 100+ Keto recipes including breakfast, appetizers, entrees, desserts, drinks, and snacks.  Net-carb, fat, protein, and calorie count for every recipe.  Enjoy recipes like Creamy Breakfast Porridge, Fiery Buffalo Wings, Mini Burgers, Jalapeño Corn Bread, Fish Tacos, Popcorn Shrimp, and tons more.
Not JUST Bread… How About Delicious Keto Cookies & Lasagna?
These foods are the MOST delicious "comfort" foods you can eat.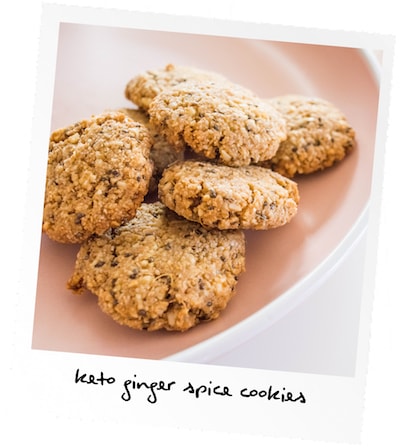 Every bite of lasagna is fueling your body with vitamins, minerals, & fats.
These are the foods that you thought you'd have to give up forever…
Plus, every delicious, ginger spice cookie is 100% free from inflammatory ingredients.
And they're sweet enough to satisfy any sugar craving…
The best part – of course – is that these foods contain almost no carbs or sugars. And these cookies taste so good, you'll never be tempted to cheat with non-keto foods.
Most importantly, these keto recipes are full of flavorful spices and have been tested in my own kitchen.

Normally, the digital version of The Essential Keto Cookbook sells for $29.99 on our website (and the physical version retails for $34.99 on Amazon).

But to celebrate the updated version of The Essential Keto Cookbook, and get it into the hands of more people like you, who want to eat delicious food and lose weight…

I ordered 1,000 print copies of the cookbook to give away. And I can't afford to keep giving it away forever..