The BEST TOYS For DOGS 2021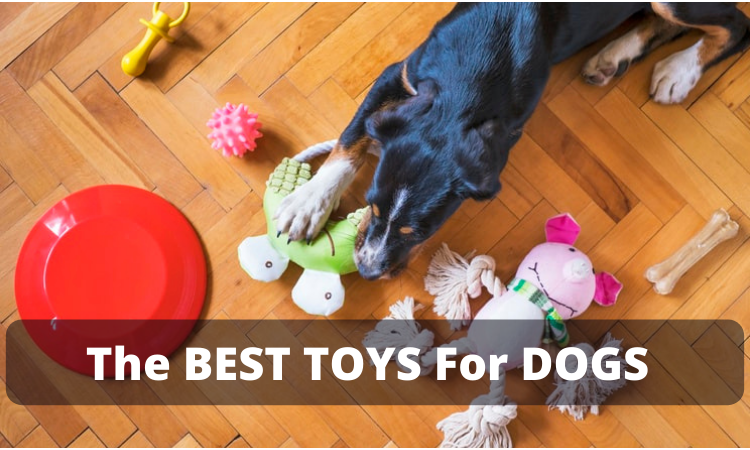 the best toys for dogs it's time to pamper the good boy of the house with toys that especially stimulate its mind and develop its body let the canine fun begin kong dog Toy blur your pet will love this and that's because the Kong brand has been spoiling your pup with innovative products for more than 40 years great the wobbler is no different it's great for boredom anxiety therapy and other behavior problems its revolutionary design makes the toy bounce unpredictably in different directions besides it has a hole in the center to fill with irresistible snacks fun is guaranteed the price of the wobble may vary from 15 to 21 dollars depending on the size.
Does your baby have one already been bone wishbones The pain because of destroyed shoes damaged furniture and lost objects is over oh I can't believe you who do mommy shoe since there is a toy that will keep your pet busy for hours inside your house no dog oh can resist this item with real bacon peanut and chicken flavor can't leave it you better do moreover its ergonomic curves and deep grooves let them taste the true flavor of the ingredients its price is $12 and it's available in different sizes.
Now this thing is amazing the Mateen bar collection if you thought you were the only one who could have a collection of the best drinks in your mini-fridge the reality is quite different your pet can have it too surprised this is possible thanks to the new mutt teeny toys relax this isn't real booze it's just plush with a squeaker inside and looks like popular drinks such as vodka beer and even Lacroix see of course the good thing is that you can use this stuffed toy to teach them not to chew household items its price varies by size, for instance, the smallest can cost up to $14 not bad for entertaining the baby of the house
How are you dental dinosaur if your pet likes to hew non-stop then this toy will drive it crazy this item is essential so they can nibble without injuring their teeth or gums it's raised bristles and natural flavor will help your dog Oh since this toy promotes fresh breath reduces tartar massages gums and helps clean teeth this is wonderful you can find it in three famous dinosaur designs brontosaurus Stegosaurus and t-rex for the amazing price of $10 this is a toy that will make your pooch have good dental health
Outward hound hides a squirrel who's your pet's best friend me of course besides you ooh hoo well it's dear and beloved toys, especially it's stuffed animals that are because they can't resist these hypnotizing toys now I'll introduce you to this item that has squeaky squirrels inside a tree trunk made of plush this toy has it all since the squirrels are excellent for fetching besides your pup will be busy looking for them inside the plush trunk it's available in three sizes with the price ranging from 8 to 17 dollars.
The best for your fur baby is here Cong squeak air balls stop buying those ard splintered tennis balls that ruin their teeth I can say that this is a wonderful product that encourages exercising and playing nice to see incredible items are made of durable and not abrasive material don't wear their teeth down and are perfect for all year round you can find it from size extra small to extra large the price and size medium is $12 let the fun begin.
Hi boy treat-dispensing this peculiar glass shaped ball of high-quality plastic lets your pet enjoy a unique and pleasant time you bet it is it reduces boredom and destructive behavior besides this increases its IQ since it lets them see here and enjoyably find treats best of all its design keeps too many snacks from coming out at once which prolongs the fun and prevents overeating the price of this incredible item is about 14 dollars and is also suitable for dogs of all kinds of ages.
Push teddy bear as I said before Kong is a spcialized brand that offers toys for better emotional mental and physical development this time it brings a bear for the good boy of the house it's got minimal stuffing just for him the different sizes cot between six and twenty seven dollars your dog Oh will love this plush bear.
Smart pet love snuggle puppy it will be very very hard for your pup to leave this incredible toy alone it's ideal for that puppy that just came to your house or for those who suffer from anxiety that's because it was created to calm them down reducing sleep anxiety it even makes sounds that mimics soft heartbeats the heartbeat and warmth mimic the feeling for dogs of resting with their mothers or litter mates this extraordinary toy completely reduces negative behaviors resulting from anxiety including whining and barking it comes with two AAA batteries that last up to two weeks with continuous 24/7 use this non-toxic toy is perfect for that anxious pooch for the price of $40
Chuck it flying squirrel this incredible squirrel like toy is an excellent alternative to the traditional frisbee it's ideal for those dogs that need to burn off excess energy I guarantee you that this toy will leave them exhausted but definitely definitely a very fun toy and a highly recommends to be used for your pet what's astounding is that it can easily float in the water and glows in the dark great for those night games besides material assault is pretty nice it has an aerodynamic design for short-range flights it's price goes from 9 to 11 dollars depending on the size it's perfect for your pet to develop its physical condition.
I dog mate ball launcher this awesome toy is an automatic ball launcher that takes care of entertaining your pet with the remote control that has four power settings you can see it's super simple to use it's really well made I love how lightweight it is incredible the balls are 2.5 inches in diameter our felted like tennis balls but made especially for dogs so they're not abrasive on their teeth the price of this extraordinary device is about $200 a marvelous gadget that will mesmerize them for hours
Dog hide and slide it's all about getting your dog to interact with the game and get their brain working as if they're training she said it not only is it a challenge for your pet but it also brings you together like a family this game consists in placing treats and circular holes and compartments in the base and swiveling the flippers so your four-legged son can find them through its sense of smell it's made of non-toxic material and designed to look like real wood but it's more durable easy to clean and will not splinter it only costs $20 so there's noexcuse for not having fun.
Sprong ball cone exclusively designed to be friendly to dogs of all sizes this amazing toy has a soft velvety outer layer with a rubber foam inner layer that's very gentle on their teeth this is great it's perfect for senior dogs who chew gentler and have dental issues not to mention that it squeaks with every bounce to get the dog's attention the price of this item is $10.
Chuck it pro launcher many dogs were born to run and stay active and it seems that exercise is key to happiness and good mental health this gadget meets these characteristics since it's a ball auncher that achieves distances the human arm can't reach chuck it launcher with its ergonomic handle propels the ball over great distances with very little effort oreover the balls are high quality and durable since they were created to endure the bites of your pet this outstanding item may cost between seven and twelve dollars depending on the size you want your fur baby will love it.
wobble wag giggle ball your pet will go crazy for this toy I'm talking about giggle ball the interactive ball that makes the most hilarious sound its innovative design makes a squeaky sound that will fascinate your pooch it weighs a pound and is six inches wide which prevents it from rolling under the furniture this striking and amusing product may cost up to twelve dollars bye-bye boring days hello fun here you'll find the best entertainment for your pet so tell us which toy are you going to buy for the king of the house.